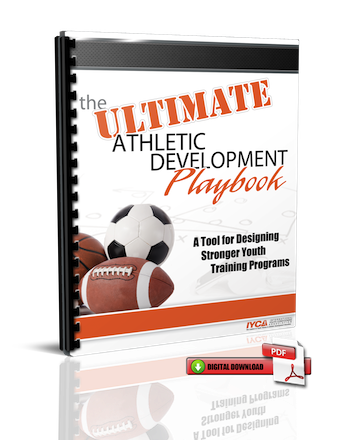 In this 50+ Page Coaching Manual you will discover:
Little Known Methods for Training Explosive Strength for High School Athletes
The Proven System For Making Your Athletes Faster
The Secret Benefits Of Various Training Tools That Your Competition Doesn't Know… But Now You Will
How You Can Integrate Flexibility and Mobility Work Into Your Programs For Maximum Results
What 95% Of All Coaches Don't Know About Program Design… and How You Can Be In The 5% That Do
Dozens Of Strategies To Becoming A Better, More Effective Coach
And Much, Much More!
Why You MUST Get This Playbook If You Want Your Athletes To Reach Their Potential…
95% of all coaches 'miss the boat' when it comes to training young athletes.  They either don't know how to develop programs that are both effective and safe or they don't care to know and are satisfied with running their athletes into the ground, wearing them out and never making them better.
In the 'Ultimate Athletic Development Playbook' IYCA Experts share exactly what separates a truly successful coach from an unsuccessful one, and exactly how you can build your own approach to effective long-term athlete development that has the type of impact you want in improving your athletes.
Enter your name and email below for FREE instant access to the 'Ultimate Athletic Development Playbook'